From Rabbits to Eggs: Sex Toys to Bring Some Bounce to the Bedroom
The seasons are changing and the weather is cooling down – the best time of year to cuddle up and romp like rabbits (I mean, the Easter bunny is an ancient fertility symbol, after all). Add some chocolate eggs and sex toys to the mix, and you've got yourself the perfect short-but-sweet holiday.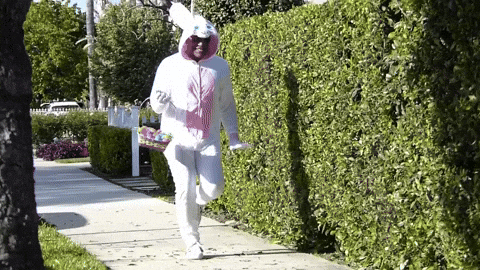 Whether you are home or away this holiday, take your sex toys with you for some long-weekend lovin'. Our top picks? Rabbit vibrators, rabbit cock rings and love egg vibrators! And not just because they are a cheeky nod to the season, either.
Here's why these three different types of sex toys will take your pleasure game to mind-blowing new heights, during these holidays and every other day.
Rabbit Vibrators
Created in 1983 and popularised in the 90s thanks to the hit show, Sex And The City, rabbit vibrators have stood the test of time. And they keep getting better and better! While all of them are unique and have different features, what they have in common are the clit-tickling 'ears'. These make sure the outside, as well as the inside, are both *ahem* catered to.
Why you need one (or five!) Rabbit vibrators are great for those who need inner and outer stimulation to reach climax. And besides, no sex toy collection is complete without this classic!
Rabbits We Rate
Rabbit Cock Rings
Another toy with an old history, cock rings are thought to date back to Ancient China. Since then, they have been upgraded from a simple band. Now you get models – such as rabbit cock rings – that have both partie's privates in mind. 
A sex toy that prolongs erections and gives the clit some much-needed attention, they're the perfect pick for partners.
Why *every* couple needs one Their purpose is twofold in that they can delay ejaculation for longer lovemaking sessions while also turning penises into vibrators that stimulate the clitoris, too!
Rabbit Cock Rings We Crave
Love Egg Vibrators
Some people like their sex toys to resemble genitals. Others, however, prefer theirs to be less obvious and easier to conceal. For them, the love egg vibrator is the perfect fit – figuratively and literally!
These small vibrators fit neatly inside the vagina and often come paired with a handy remote or are app-controlled. This allows for hands-free and long-distance action wherever you are. 
Why these toys are egg-cellent Love egg vibrators are popular because they offer discreet pleasure on the go, making them handbag-friendly and the best travel companion.
Love Eggs to Lust Over
What are you waiting for? Stock up on rabbit and egg toys, dust off the bunny ears and smear on some body chocolate – you're in for a feast this long weekend!